So many reasons to celebrate! 🥳
---
World Dream's promotion have been extended! 
‍Hurry make your booking now before the promotion ends for good 😨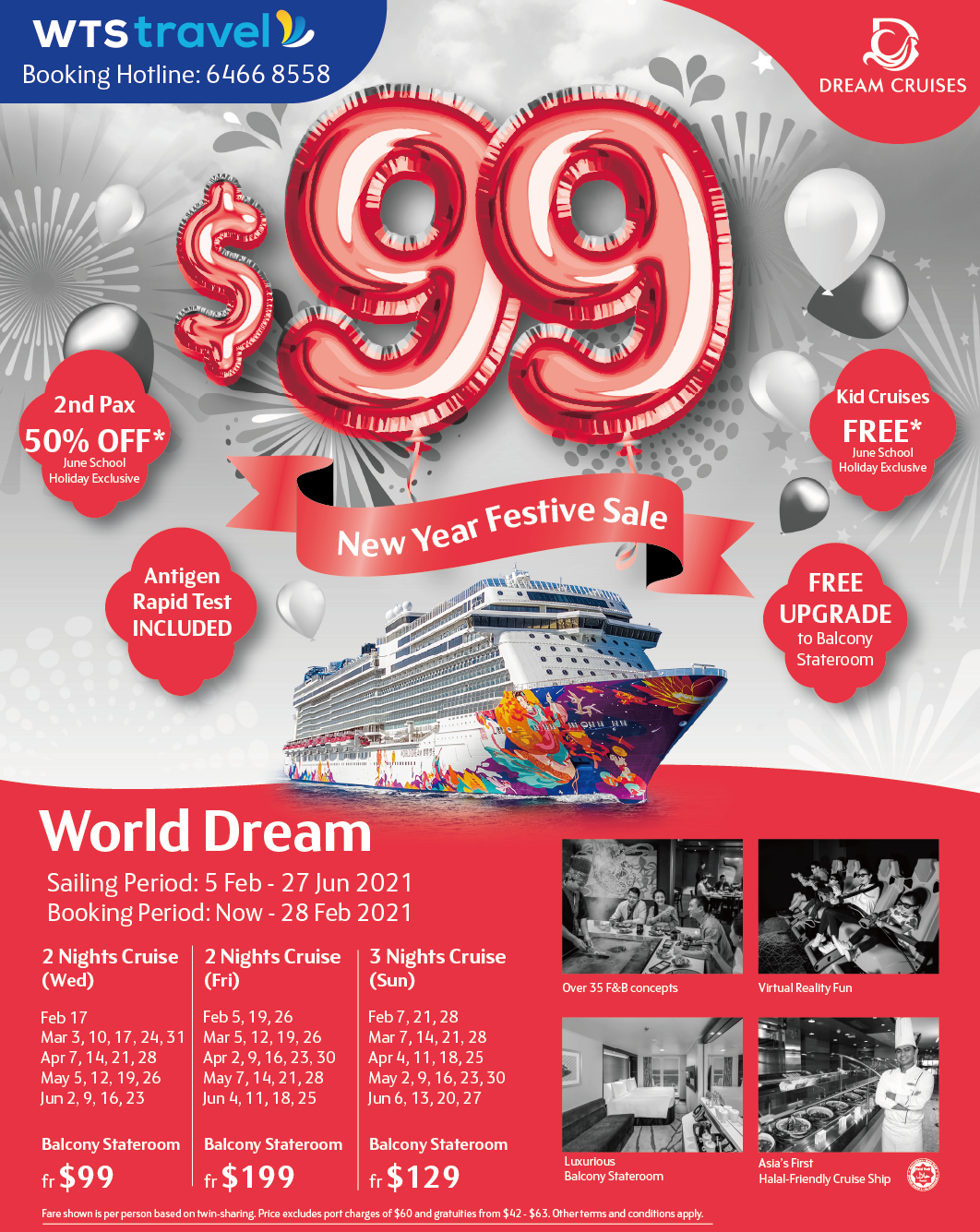 EXPLORE THE BEST WORLD DREAM DEALS TILL JUN 21 SAILINGS!
Booking Period: NOW till 28 Feb 21
Sailing Period: 05 Feb till 27 Jun 21
Cruise from $99* per pax
FREE UPGRADE to Balcony Cabin
Covid 19 Antigen Rapid Tests INCLUDED
Kid Cruises FREE* June School Holiday EXCLUSIVE
2nd Pax 50% OFF* June School Holiday EXCLUSIVE
探索世界梦号的最超值优惠,附加航程至6月启航!
预订日期: 即日起至2月7日
启航日期: 2021年2月5日至6月27日
每人只需$99*起
免费升级至露台客房
包含新冠病毒快速抗原检测费用
儿童免费海上游 (6月学校假期独家优惠)
第2位乘客50%折扣 (6月学校假期独家优惠)
T & C apply. Cabins are limited. Make your booking NOW!
Call 6466 8558
WhatsApp
https://wa.me/6591166994
Email cruises@wtstravel.com.sg
---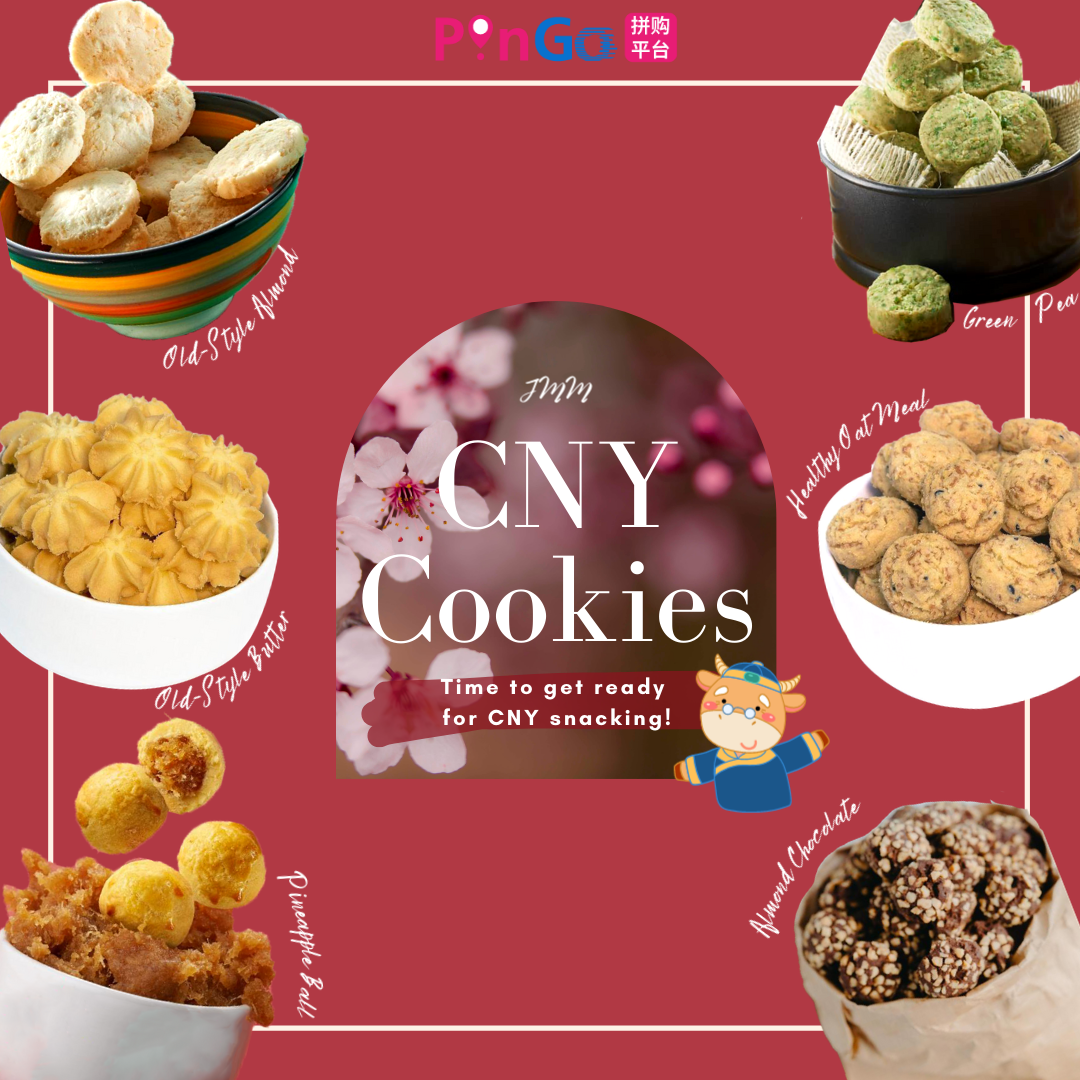 Another reason to celebrate: we're only 2 weeks away from the Lunar New Year!!
Hurry stock up on your CNY cookies (for both yourself and your guests 🤤)! We have JMM CNY cookies available in 6 different PinGo exclusive flavors (Old-Style Almond, Old-Style Green Pea, Old-Style Butter, Healthy Oat Meal, Almond Chocolate and Pineapple Ball)! 🤩 Get yours today and enjoy 10% off! 💯
🛒 Shop now at https://pingo.com.sg/collections/jmm-cny-cookies
📱 Whatsapp to order https://wa.me/6581231851
| Subscribe to WTS Travel Telegram for our latest travel updates, tips and tricks, deals, stories, and anything travel related!   | |
| --- | --- |
We would like to invite you to participate in this customer satisfaction survey. Your feedback will be collated, analysed and presented to improve the overall Customer Service of WTS Travel & Tours Pte Ltd.
*Pictures shown above are for reference only. All promotions, fares, taxes and surcharges shown may be subjected to changes with or without prior notice. Actual sequence of itinerary may deviate or be omitted from above. Please check with our tour consultants. Terms and conditions apply.  

WTS Travel & Tours Pte Ltd Corporate Office
29 First Lok Yang Road, Singapore 629736

WTS Travel Hotline: 6466 8558 | Coach Booking: 6466 7555 | Enquiry Email: enquiries@wtstravel.com.sg 

UNSUBSCRIBE
Please click here if you do not wish to receive any future promotional material.

DISCLAIMER
This message is for the designated recipient only and may contain privileged or confidential information and exempt from disclosure under applicable law and/or may be subject to copyright protection. If you have received it in error, please notify the sender immediately and delete this message. Any other use of the email by you is strictly prohibited. Opinions, conclusions and other information in this message that do not relate to the official business of the company shall be understood as neither given nor endorsed by the company. The company makes no warranties that this message is free from computer virus and the like, and disclaims all liabilities in connection therewith.