Haven't made plans for the holiday?
---
[Jul - Sep] Book your Dream Seacation now!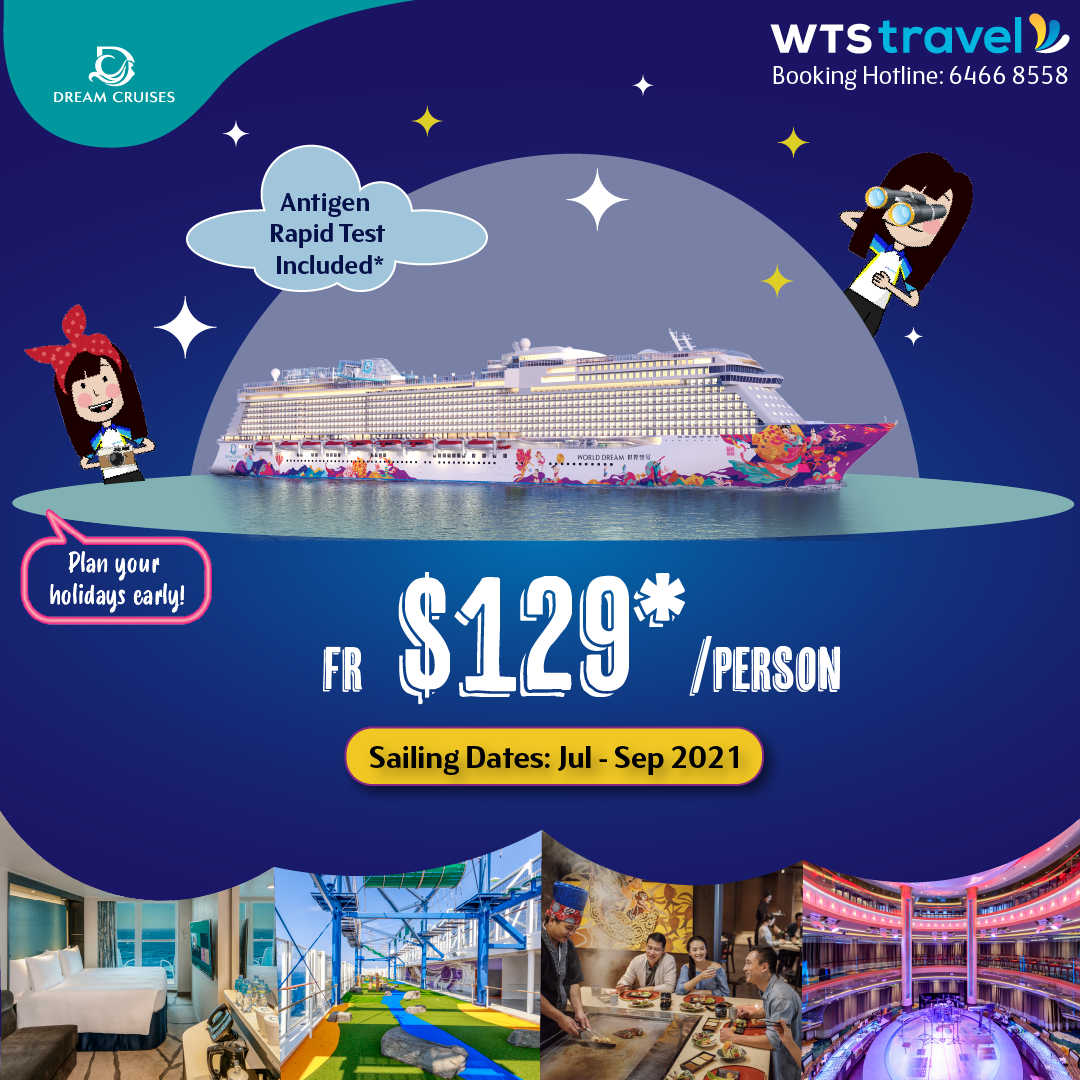 Great News!
#WorldDream
Jul – Sep 21 sailings are now open for booking!
Grab your cabin now fr S$129* per person in a Balcony Stateroom & S$599* per person in a Palace Suite!
Limited cabins available, book your Super Seacation with us TODAY!
好消息!世界梦号7月– 9月航程已开放预订!
露台客房每位乘客从S$129*起
For more information:
Call 6466 8558
WhatsApp
https://wa.me/6591166994
Email cruises@wtstravel.com.sg
---

---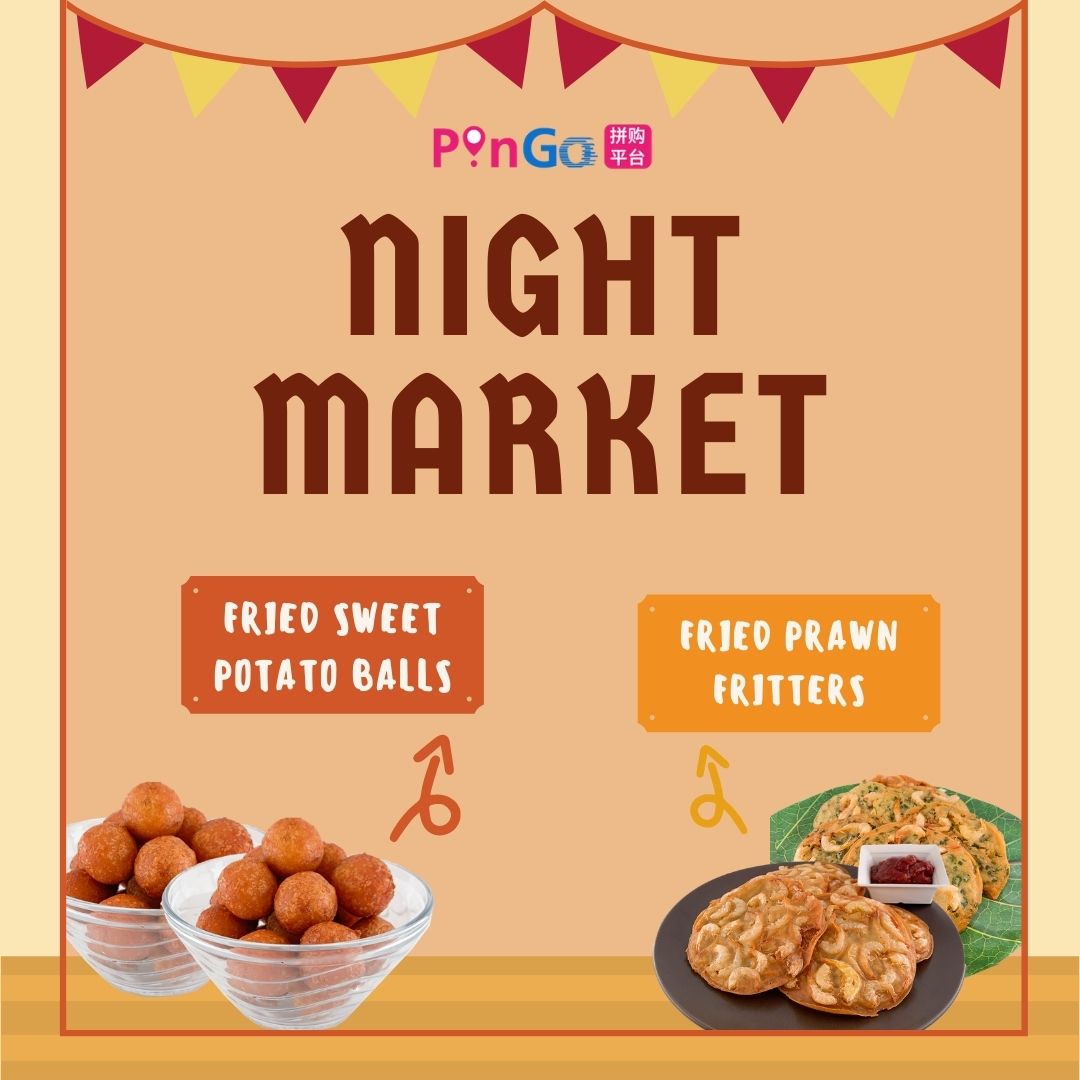 Enjoy Street Snacks at the comfort of your home!
🤩
Don't we all miss going to the Pasar Malam and having all the yummy snacks?
Now, you'll get to prepare and enjoy street snacks at the comfort of your house!
Don't have to spend time queuing too
Find out more!
[‍PROMO!] Kueh Lapis from Batam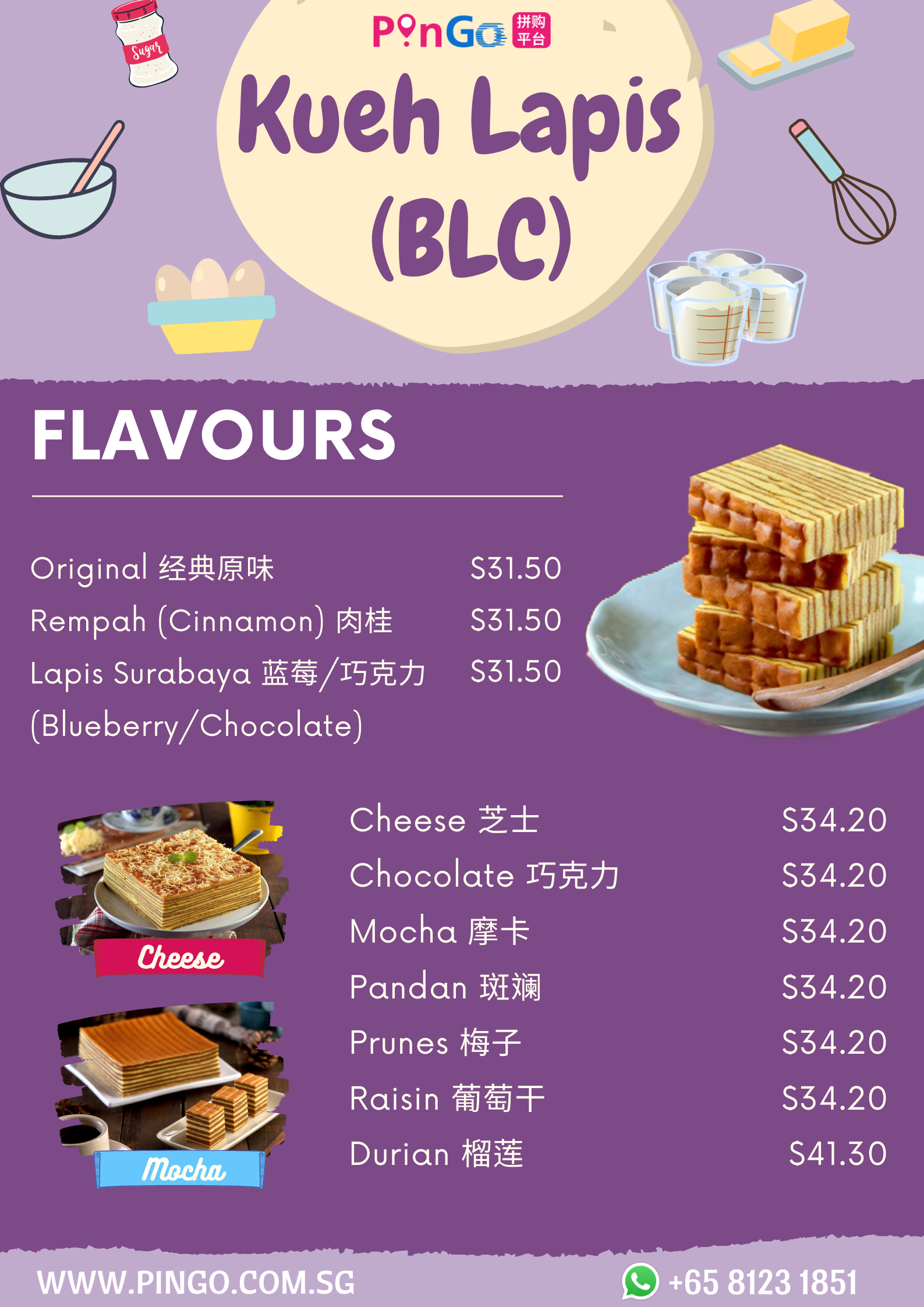 ‍😋💕  [10% OFF for ALL Kueh Lapis, No Min. Spend] 😋💕
Up to 10 DIFFERENT FLAVORS to choose from:
✓ Original - $31.50 (u.p. $35)
✓ Rempah - $31.50 (u.p. $35)
✓ Surabaya Lapis (Chocolate/Blueberry) - $31.50 (u.p. $35)
✓ Prunes - $34.20 (u.p. $38)
✓ Pandan - $34.20 (u.p. $38)
✓ Chocolate - $34.20 (u.p. $38)
✓ Mocha - $34.20 (u.p. $38)
✓ Cheese - $34.20 (u.p. $38)
✓ Raisin – 34.20 (u.p. $38)
✓ Durian - $41.30 (u.p. $45.90)
Every Kueh Lapis comes in 1kg! 🍰 Enjoy free delivery with every $60 spent! 🚐
Order now and get your Kueh Lapis on 17 & 24 April 2021 (Sat)!  😍
🛒 Shop now at https://pingo.com.sg/collections/cakes/kueh-lapis
📱 Whatsapp to order https://wa.me/6581231851
#BatamKuehLapis #BatamLayerCake #PinGo #Promotion
| Subscribe to WTS Travel Telegram for our latest travel updates, tips and tricks, deals, stories, and anything travel related!   | |
| --- | --- |
We would like to invite you to participate in this customer satisfaction survey. Your feedback will be collated, analysed and presented to improve the overall Customer Service of WTS Travel & Tours Pte Ltd.
*Pictures shown above are for reference only. All promotions, fares, taxes and surcharges shown may be subjected to changes with or without prior notice. Actual sequence of itinerary may deviate or be omitted from above. Please check with our tour consultants. Terms and conditions apply.  

WTS Travel & Tours Pte Ltd Corporate Office
29 First Lok Yang Road, Singapore 629736

WTS Travel Hotline: 6466 8558 | Coach Booking: 6466 7555 | Enquiry Email: enquiries@wtstravel.com.sg 

UNSUBSCRIBE
Please click here if you do not wish to receive any future promotional material.

DISCLAIMER
This message is for the designated recipient only and may contain privileged or confidential information and exempt from disclosure under applicable law and/or may be subject to copyright protection. If you have received it in error, please notify the sender immediately and delete this message. Any other use of the email by you is strictly prohibited. Opinions, conclusions and other information in this message that do not relate to the official business of the company shall be understood as neither given nor endorsed by the company. The company makes no warranties that this message is free from computer virus and the like, and disclaims all liabilities in connection therewith.