🎉World Dream Extended Sailings🎉
---
Dining-in resumes, in pairs!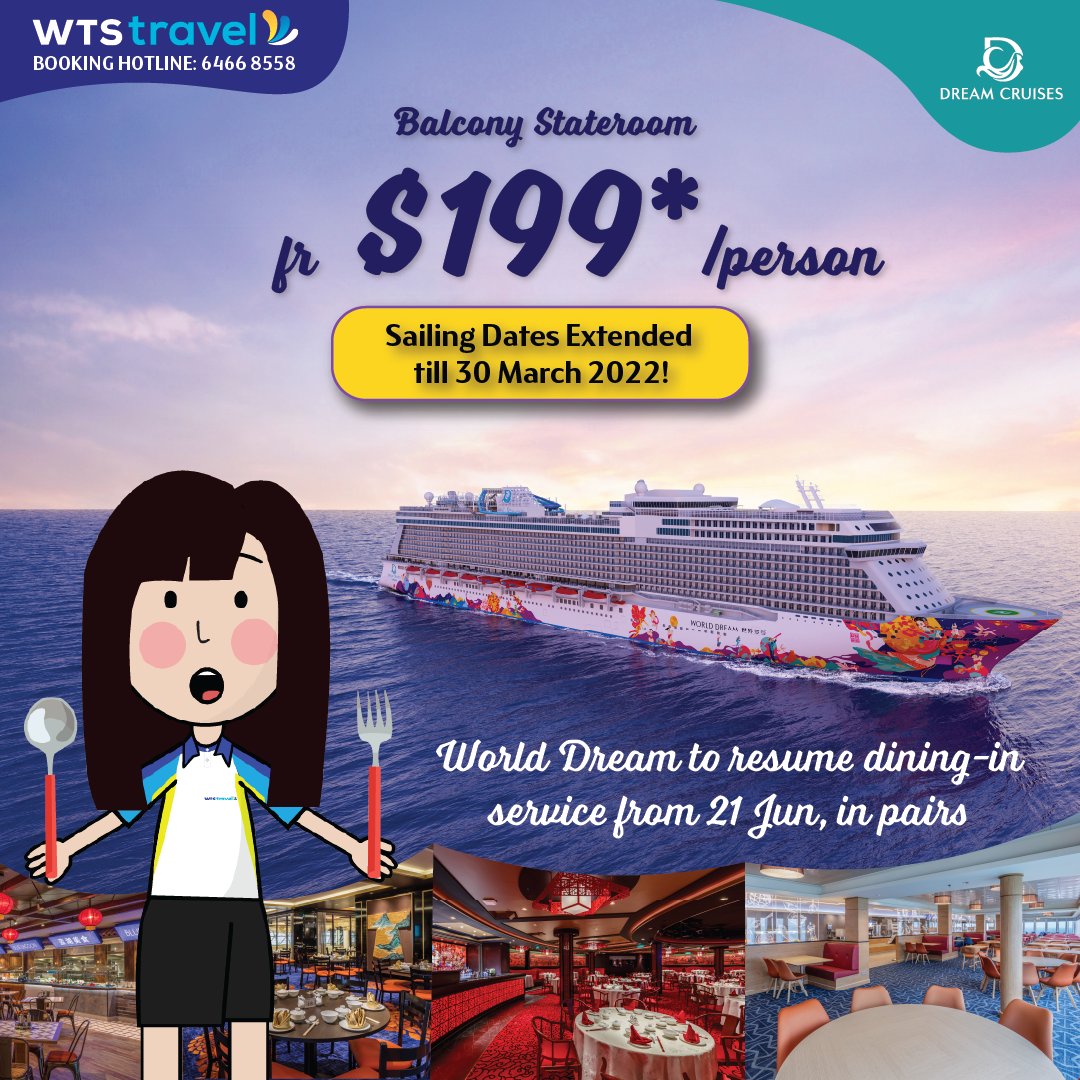 𝐖𝐨𝐫𝐥𝐝 𝐃𝐫𝐞𝐚𝐦 𝐭𝐨 𝐫𝐞𝐬𝐮𝐦𝐞 𝐝𝐢𝐧𝐢𝐧𝐠-𝐢𝐧 𝐬𝐞𝐫𝐯𝐢𝐜𝐞 𝐟𝐫𝐨𝐦 𝟐𝟏 𝐉𝐮𝐧, 𝐢𝐧 𝐩𝐚𝐢𝐫𝐬
]
Hey, you can still enjoy your Super Seacation aboard #WorldDream with your friends and family from different households in a group size of up to 5, with the dining-in service at over 35 dining concepts in pairs aboard #WorldDream.
Starting from only $199* per person in a Balcony cabin,
#WorldDream
sailings are extended till 30 Mar 22 and New Sailings are opened for booking NOW!
Plus:
• Antigen Rapid Test Included*
• "Cruise As You Wish": Flexibility to cancel up to 48 hours prior to departure at no charge*
*Terms & Conditions Apply.
天大的好消息!即日起您可以在世界梦号上与来自不同家庭的朋友和家人一起享受您的超级海上之旅,最多5人同行。不仅如此,6月21日起您也可以享受双人同桌用餐哦~
#世界梦号上超过35个餐饮概念
!
别错过以露台客房每位乘客从S$199*起的优惠价格!
世界梦号现已开放预订至2022 年3月30日启航!
包含:
• COVID-19 抗原快速检测*
• 「随心出游」: 旅客可于启航至少 48 小时前更改或取消行程, 旅客已付之费用将获全额退回至邮轮信用额度*
Don't wait. Make your booking TODAY!
Call 6466 8558
WhatsApp
https://wa.me/6591166994
Email cruises@wtstravel.com.sg
Join us on Telegram
https://t.me/wtstravel
---

---
Durian Season is here!
万众瞩目的榴莲季节回来了!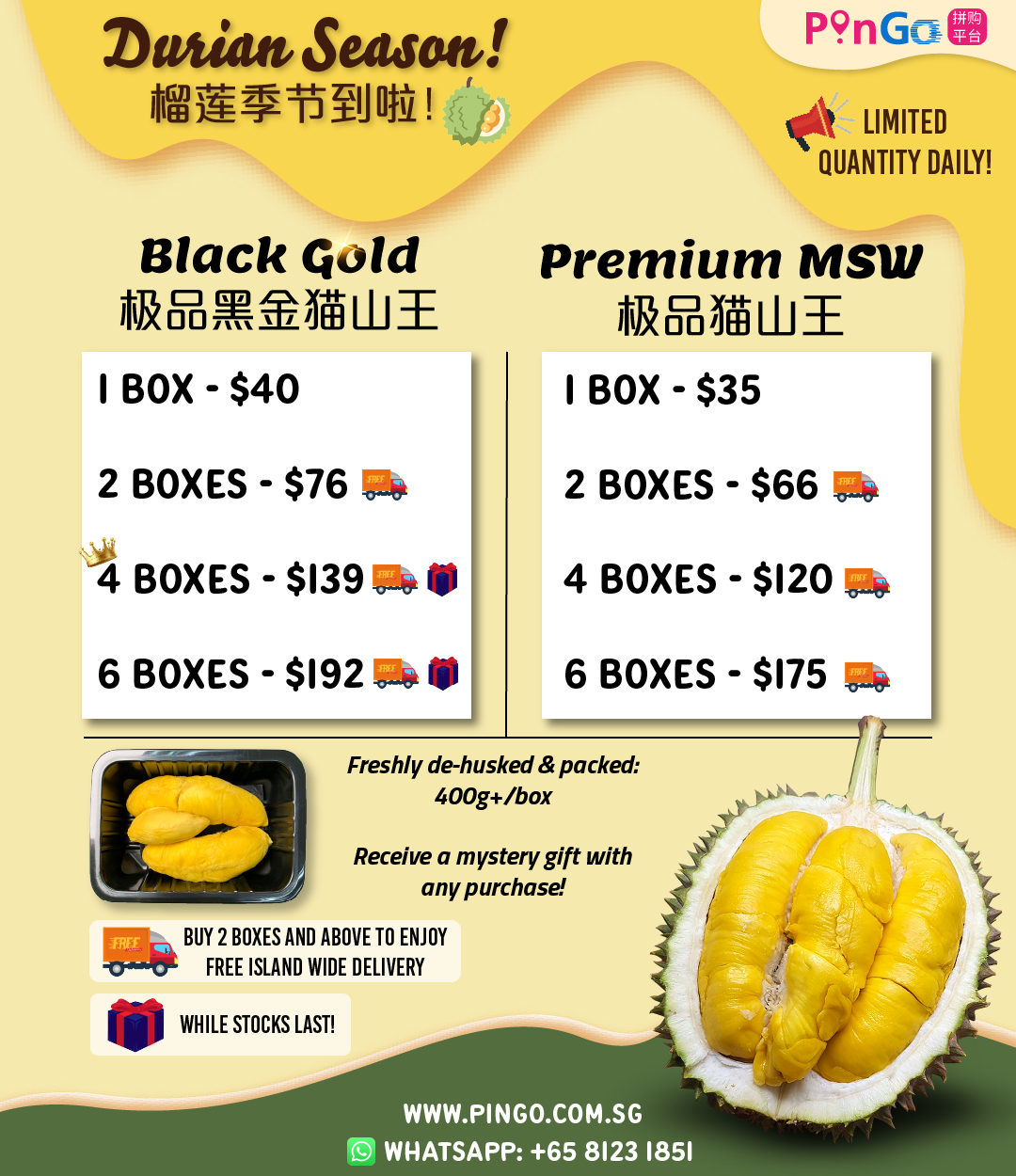 Quickly get your hands on our premium durians.
Black Gold Durian 极品黑金猫山王:
1 box - $40
2 boxes - $76 (FREE delivery)
4 boxes - $139 (FREE delivery + Free Gift*)
6 boxes - $192 (FREE delivery + Free Gift*)
*WHILE STOCKS LAST!
Premium MSW 极品猫山王:
1 box - $35
2 boxes - $66 (FREE delivery)
4 boxes - $120 (FREE delivery)
6 boxes - $175 (FREE delivery)
Freshly de-husked & packed: 400g+/box
Buy 2 boxes & above to enjoy FREE ISLAND WIDE DELIVERY.
#全岛免费送货
Receive a mystery gift with any purchase!
#神秘礼物
Shop now at
https://pingo.com.sg/collections/durians
Whatsapp to order
https://wa.me/6581231851
| Subscribe to WTS Travel Telegram for our latest travel updates, tips and tricks, deals, stories, and anything travel related!   | |
| --- | --- |
We would like to invite you to participate in this customer satisfaction survey. Your feedback will be collated, analysed and presented to improve the overall Customer Service of WTS Travel & Tours Pte Ltd.
*Pictures shown above are for reference only. All promotions, fares, taxes and surcharges shown may be subjected to changes with or without prior notice. Actual sequence of itinerary may deviate or be omitted from above. Please check with our tour consultants. Terms and conditions apply.  

WTS Travel & Tours Pte Ltd Corporate Office
29 First Lok Yang Road, Singapore 629736

WTS Travel Hotline: 6466 8558 | Coach Booking: 6466 7555 | Enquiry Email: enquiries@wtstravel.com.sg 

UNSUBSCRIBE
Please click here if you do not wish to receive any future promotional material.

DISCLAIMER
This message is for the designated recipient only and may contain privileged or confidential information and exempt from disclosure under applicable law and/or may be subject to copyright protection. If you have received it in error, please notify the sender immediately and delete this message. Any other use of the email by you is strictly prohibited. Opinions, conclusions and other information in this message that do not relate to the official business of the company shall be understood as neither given nor endorsed by the company. The company makes no warranties that this message is free from computer virus and the like, and disclaims all liabilities in connection therewith.