DOUBLE IN-HOUSE FAIR,

DOUBLE THE FUN!
---
Head down to our retail outlets today! 
SURPRISE!
𝐖𝐓𝐒 𝐓𝐑𝐀𝐕𝐄𝐋 𝐌𝐀𝐋𝐀𝐘𝐒𝐈𝐀 𝐈𝐍-𝐇𝐎𝐔𝐒𝐄 𝐅𝐀𝐈𝐑
is also making a comeback this weekend!
Let us bring you along as we discover the best of Malaysia, either by land or by sea. From 4 - 7 Nov, head down to our retail outlets and book your next trip to Malaysia. Enjoy special deals for different destinations and tours - on top of that, you will also get to receive a FREE GIFT for every $250 spent.
Promotion period: 4 - 7 Nov 2022
To book, visit us at our outlets:
Causeway Point #05-19
Lot One Shopping Mall #03-18
Our Tampines Hub #B1-38
---
 

RESORTS WORLD CRUISES IN-HOUSE FAIR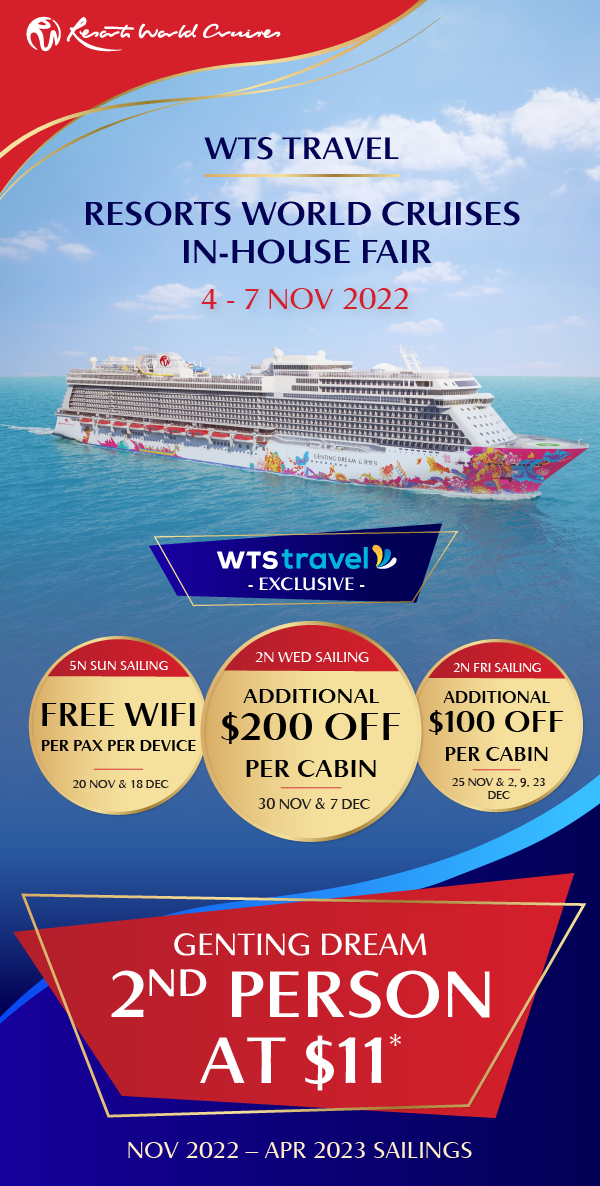 𝐖𝐓𝐒 𝐓𝐑𝐀𝐕𝐄𝐋 𝐱 𝐑𝐄𝐒𝐎𝐑𝐓𝐒 𝐖𝐎𝐑𝐋𝐃 𝐂𝐑𝐔𝐈𝐒𝐄𝐒 𝐈𝐍-𝐇𝐎𝐔𝐒𝐄 𝐅𝐀𝐈𝐑 is here!
From 4 - 7 Nov 2022, book your dream seacation at any WTS Travel retail outlets and enjoy exclusive promotions on top of the 11.11 SALE. That's double the FUN!
11.11 Sale - 2nd person cruises at $11
Additional $200 off per cabin: Nov 30, Dec 07 sailing
Additional $100 off per cabin: Nov 25, Dec 02 / 09 / 23 sailing
Free WiFi per pax per device: Nov 20, Dec 18
*Terms & Conditions Apply
| Subscribe to WTS Travel Telegram for our latest travel updates, tips and tricks, deals, stories, and anything travel related!   | |
| --- | --- |
We would like to invite you to participate in this customer satisfaction survey. Your feedback will be collated, analysed and presented to improve the overall Customer Service of WTS Travel & Tours Pte Ltd.
*Pictures shown above are for reference only. All promotions, fares, taxes and surcharges shown may be subjected to changes with or without prior notice. Actual sequence of itinerary may deviate or be omitted from above. Please check with our tour consultants. Terms and conditions apply.  

WTS Travel & Tours Pte Ltd Corporate Office
8 Gul Circle, Singapore 629564

WTS Travel Hotline: 6466 8558 | Coach Booking: 6466 7555 | Enquiry Email: enquiries@wtstravel.com.sg 

UNSUBSCRIBE
Please click here if you do not wish to receive any future promotional material.

DISCLAIMER
This message is for the designated recipient only and may contain privileged or confidential information and exempt from disclosure under applicable law and/or may be subject to copyright protection. If you have received it in error, please notify the sender immediately and delete this message. Any other use of the email by you is strictly prohibited. Opinions, conclusions and other information in this message that do not relate to the official business of the company shall be understood as neither given nor endorsed by the company. The company makes no warranties that this message is free from computer virus and the like, and disclaims all liabilities in connection therewith.