LET'S END OUR YEAR ON A HIGH NOTE! 
---
 YEAR-END 

MALAYSIA IN-HOUSE FAIR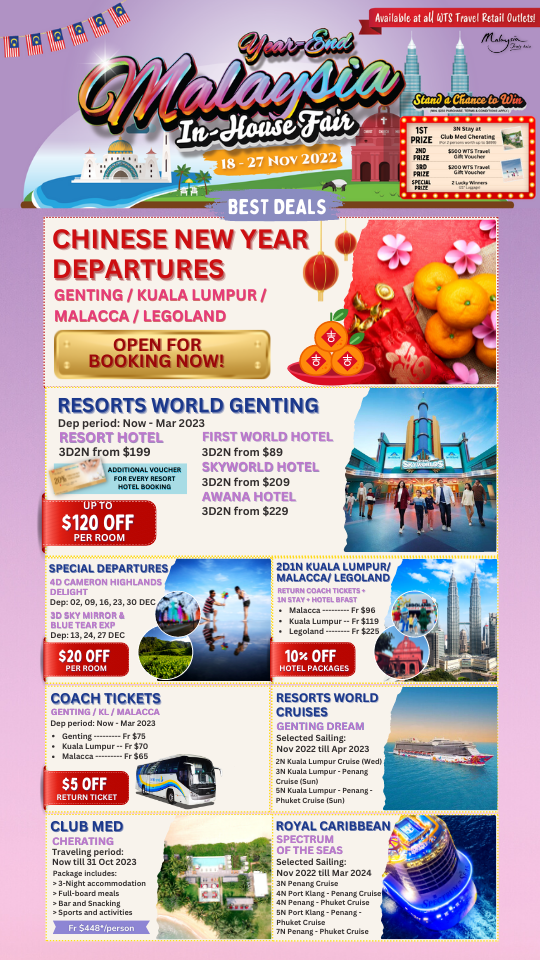 Head down to our retail outlets today! 
𝐖𝐓𝐒 𝐓𝐑𝐀𝐕𝐄𝐋 𝐘𝐄𝐀𝐑-𝐄𝐍𝐃 𝐌𝐀𝐋𝐀𝐘𝐒𝐈𝐀 𝐈𝐍-𝐇𝐎𝐔𝐒𝐄 𝐅𝐀𝐈𝐑
is here to make sure your year ends on a high note.
From 18 - 27 Nov, visit our retail outlets to book your next vacation to Malaysia at a promotional price.
Stand a chance to win attractive prizes if you spend over $250 on a Malaysia booking!
Another good news is that you can now make your bookings at our NEWLY OPENED OUTLETS at 𝗗𝗼𝘄𝗻𝘁𝗼𝘄𝗻 𝗘𝗮𝘀𝘁 (#𝟬𝟭-𝟭𝟯𝟱) & 𝗝𝘂𝗿𝗼𝗻𝗴 𝗣𝗼𝗶𝗻𝘁 (#𝟬𝟯-𝟭𝟮𝟵)! See you there.
Promotion period: 18 - 27 Nov 2022
---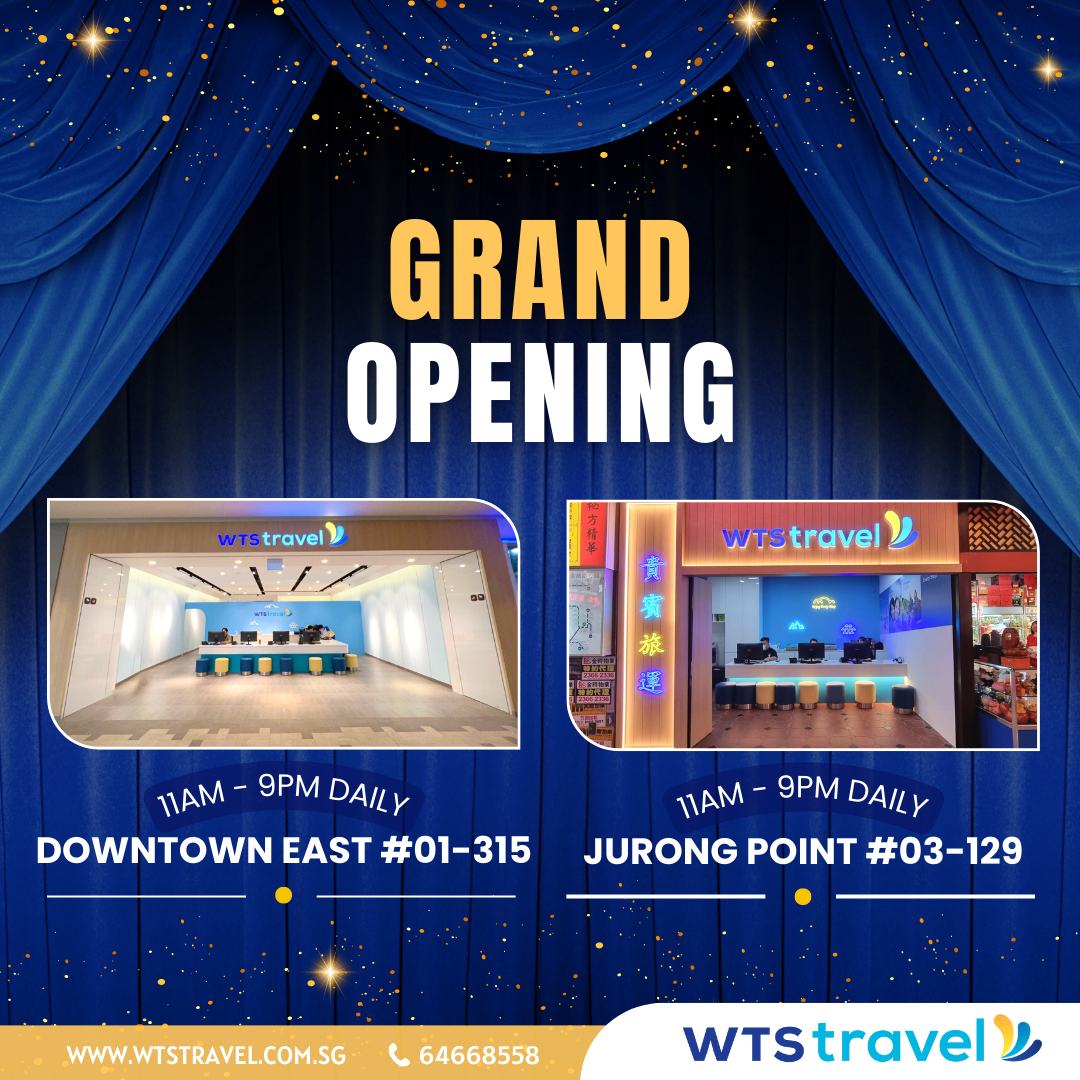 Easties & Westies, rejoice as making travel arrangements has just gotten easier for you! 💙
We are thrilled to announce the 𝗚𝗿𝗮𝗻𝗱 𝗢𝗽𝗲𝗻𝗶𝗻𝗴 𝗼𝗳 𝗼𝘂𝗿 𝗻𝗲𝘄𝗲𝘀𝘁 𝗼𝘂𝘁𝗹𝗲𝘁𝘀 𝗮𝘁 𝗗𝗼𝘄𝗻𝘁𝗼𝘄𝗻 𝗘𝗮𝘀𝘁 & 𝗝𝘂𝗿𝗼𝗻𝗴 𝗣𝗼𝗶𝗻𝘁! 🎉 Both outlets have started operation, hurry down and book your long-awaited vacation now.

𝐃𝐨𝐰𝐧𝐭𝐨𝐰𝐧 𝐄𝐚𝐬𝐭 #𝟎𝟏-𝟑𝟏𝟓
📍1 Pasir Ris Cl #01-315, Downtown East S(519599)
🕑 Open daily from 11am - 9pm

𝐉𝐮𝐫𝐨𝐧𝐠 𝐏𝐨𝐢𝐧𝐭 #𝟎𝟑-𝟏𝟐𝟗
📍1 Jurong West Central 2 #03-129 Jurong Point S(648886)
🕑 Open daily from 11am - 9
pm

| Subscribe to WTS Travel Telegram for our latest travel updates, tips and tricks, deals, stories, and anything travel related!   | |
| --- | --- |
We would like to invite you to participate in this customer satisfaction survey. Your feedback will be collated, analysed and presented to improve the overall Customer Service of WTS Travel & Tours Pte Ltd.
*Pictures shown above are for reference only. All promotions, fares, taxes and surcharges shown may be subjected to changes with or without prior notice. Actual sequence of itinerary may deviate or be omitted from above. Please check with our tour consultants. Terms and conditions apply.  

WTS Travel & Tours Pte Ltd Corporate Office
8 Gul Circle, Singapore 629564

WTS Travel Hotline: 6466 8558 | Coach Booking: 6466 7555 | Enquiry Email: enquiries@wtstravel.com.sg 

UNSUBSCRIBE
Please click here if you do not wish to receive any future promotional material.

DISCLAIMER
This message is for the designated recipient only and may contain privileged or confidential information and exempt from disclosure under applicable law and/or may be subject to copyright protection. If you have received it in error, please notify the sender immediately and delete this message. Any other use of the email by you is strictly prohibited. Opinions, conclusions and other information in this message that do not relate to the official business of the company shall be understood as neither given nor endorsed by the company. The company makes no warranties that this message is free from computer virus and the like, and disclaims all liabilities in connection therewith.